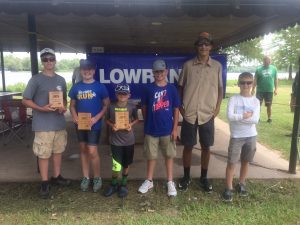 The Oklahoma Bass Federation held the 2017 Junior State Championship on Lake Ponca, Saturday, June 17.  The 600 acre lake, located in Ponca City, OK, provided the young anglers the opportunity to enjoy a day on the water fishing out of boats furnished by the contestants parents and/or members of the Ponca City Bassmasters.  The anglers were competing for a trip to the TBF 2017 Junior World Championship to be held in Columbia, SC August 10 thru 12on Lake Wateree.  The Junior program is open to young men and women ages 11 to 15 with the age limit effective August 31 of each year.
Caleb Edens, Ponca City, was the only angler to bring a limit to the scales.  The five fish tipped the scales at 6 pounds and 8 oz.  With this limit, Caleb was crowned the 2017 Oklahoma Junior State Champion.  The State Runner-Up was another Ponca angler, Anna Newell.  Anna brought in a creel of 3 fish weighing 4 pounds 9 oz.  Eli Long, Holdenville, garnered the third place trophy with a 3 pound and 11oz. stringer.  Fouth went to Hayden Newland, Ponca City, with 2 pounds and 15 oz. followed by Dakota Page, Catoosa, only 9 oz. behind Hayden with  3 fish weighing 2 pounds 6 oz.  Rounding out the Top 6 was Ty Downs, Newkirk, with a 2 pounder, one of the largest of the fish brought to the scales.
The State Champions from all 46 States and Canada, associated with the Bass Federation (TBF), will be competing for title of the 2017 Junior World Champion.  Anglers will fish one elimination day with the 7 regional finalist fishing on the final day for $5000 in College Scholarships.  The TBF has programs for young anglers 11-15 years of age in our Junior program, High School team tournaments, and events for the College anglers.  For information concerning our youth and adult programs go to bassfederation.com.